US Open Brass Band Championships
2015 Results
Congratulations to this year's winner: Dublin Silver!
Adjudicators: Dr. Glen Flanigan & Adam Frey
Music + Entertainment = Total

1. Dublin Silver (Tim Jameson): 192/48 = 240
2. Fountain City (Joseph Parisi): 192/43 = 235 500
3. Eastern Iowa Brass Band (Alexander Beamer): 184/40 = 224 250
4. Prairie Brass Band (Mary Barnes-Gingrich): 179/40 = 219
5. Madison Brass Band (Craig Mason): 175/65 = 210

Most Entertaining: Dublin Silver Band
Best Performance of a March: Eastern Iowa Brass Band (The Wizard)
Best New Arrangement or Composition: Madison Brass Band (Kom Susser Swing)
Best Performance of a Percussion Section: Madison Brass Band
Best Featured Soloist: Tom Henehan (flugel) - Prairie Brass Band
Thanks to all who attended the competition this year. Read Michael Boo's account of the day.

2015 U.S Open Brass Band Championships by Michael Boo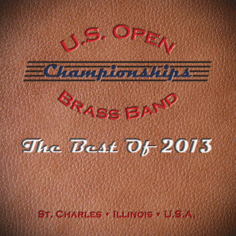 The best of the 2013 US Open CD is now available. Enjoy 18 tracks of the best of the 2013 US Open Championships, including all the award winners as well as the winning Buskers performance and much more.
Order yours now, still just $15.00 plus $2.00 shipping within the United States. Please contact us for Canadian and overseas shipping charges or quantities over 50.
Apply for Your Invitation
The U.S. Open aims to draw the finest brass bands from North America and around the world. If your band is interested in receiving an invitation to participate in the U.S. Open, please contact Clark Niermeyer at info@usopenbrass.org.