US Open Brass Band Championships
Congratulations to this year's winner: Fountain City Brass Band! Thank you to all who participated - we are already looking forward to next year.
Michael Boo is the Staff Writer for Drum Corps International and also writes for Bands of America and the winter guard and indoor marching percussion events of WGI, earning him the nickname, "The Pen of Pageantry." A composer, he is also a recipient of multiple ASCAP Plus Awards "for contributions to American music." Read what Michael Boo had to say about this year's contest. View PDF
2014 Results
1st Place: Fountain City Brass Band
2nd Place: Dublin Silver Band
3rd Place: Central Ohio Brass Band
Most Entertaining: Dublin Silver Band
Best Soloist: Dr. Don Deal, Madison Brass Band
Best Performance of a March Central Ohio Brass Band
Best New Arrangement: Dublin Silver Band
Best Percussion: Fountain City Brass Band
Best Buskers (tie) Dave and Busker from Dublin & Prairie Dogs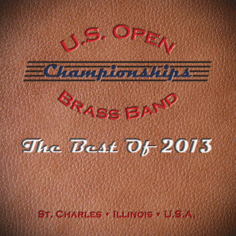 The best of the 2013 US Open CD is now available. Enjoy 18 tracks of the best of the 2013 US Open Championships, including all the award winners as well as the winning Buskers performance and much more.
Order yours now, still just $15.00 plus $2.00 shipping within the United States. Please contact us for Canadian and overseas shipping charges or quantities over 50.
Apply for Your Invitation
The U.S. Open aims to draw the finest brass bands from North America and around the world. If your band is interested in receiving an invitation to participate in the U.S. Open, please contact Clark Niermeyer at info@usopenbrass.org.