US Open Brass Band Championships
The U.S. Open is now "OPEN"!
No invitation required
For the 2016 U.S. Open Brass Band Championships, registration is Open to any traditional Brass Band. Registration will be accepted on a first come, first serve basis until we have reached our limit for the day. A band will be reserved a place in the competition only when your registration and initial entry fee has been received. In addition to the registration a band may request the general time of day and performance slot to perform by noting it on the registration form. The contest committee will make every effort to accommodate your request.

Together with the new rules changes: "all brass horns allowed" and "battery operated stand lights or other lights", we hope that this make for a very interesting year in the continued growth of the event.

Follow this link to the registration page
Follow this link to the rules page

Be sure to get your registration in ASAP while there are still spots available! Stay tuned for more announcements this summer.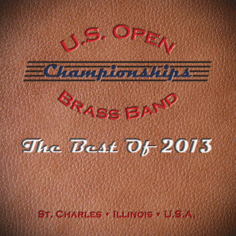 The best of the 2013 US Open CD is now available. Enjoy 18 tracks of the best of the 2013 US Open Championships, including all the award winners as well as the winning Buskers performance and much more.
Order yours now, still just $15.00 plus $2.00 shipping within the United States. Please contact us for Canadian and overseas shipping charges or quantities over 50.